Home




Fudge Brownies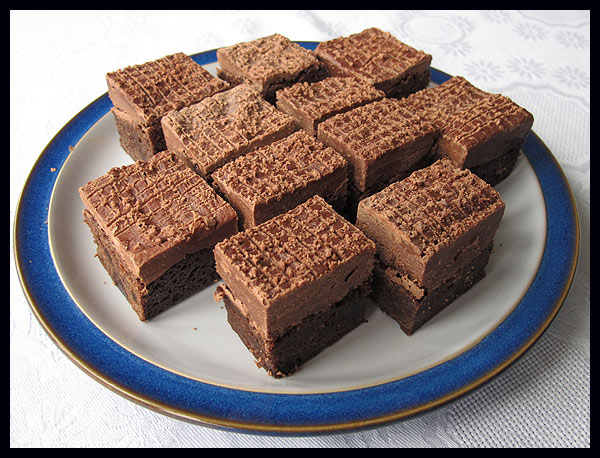 Ingredients:
4oz butter
8oz soft brown sugar
2 eggs
1 teaspoon vanilla essence
2oz plain flour
1oz cocoa
½ level teaspoon baking powder
1oz chopped walnuts
1oz chopped glace cherries
1 tablespoon milk
Topping:
3oz plain chocolate
2 tablespoons milk
1oz butter
1 teaspoon instant coffee mixed with 1 tablespoon boiling water
6oz (or a little more) icing sugar
Line a 7 inch square, 1 inch deep sandwich tin with greased paper. Cream butter & sugar in a large bowl until light and fluffy. Beat in the eggs. Stir in vanilla essence. Sift flour, cocoa & baking powder and fold into the mixture together with the walnuts, cherries and milk. Pour into the tin and level the top.
Bake in a pre-heated oven at 180 C for 30-35 minutes, until a cake skewer comes out clean or when pressed with a finger the cake springs back into shape (if not give it another 5 minutes). Leave to cool, then cover with topping before removing from tin.
To make the topping, melt (microwave will do this) the chocolate in a bowl together with the milk, butter, and coffee in boiling water. Stir in the icing sugar and beat until smooth. Add a bit more icing sugar if the mixture is sloppy, or milk if the mixture is stiff. Spoon onto the cake, still in the tin and whilst the cake is still warm (or the topping may not stick to the cake very well) and leave to set.
Cut into pieces and store in an airtight container on kitchen roll.
[This is so popular that I've started to bake it in a 9 inch square container, using 1½ x all quantities. I also sometimes leave out the walnuts and use a double quantity of glace cherries. You can play around with these ingredients to suit your preferences - Martin.]