Martin and I crossed the Pyrenees in 54 days this summer on the HRP (Haute Randonnée Pyrenéenne or High Level Route) from Monday 26 July to Friday 17 September 2004. We intend to produce some more detailed pages, based on daily postcards we sent home, but in the meanwhile we hope the description of two days on route will whet the appetite.
Martin's 'not-so-expert' navigation
Tuesday 10 August (Day 16) dawned cloudy at our illegal pitch near Refuge Pombie, beneath the would-be imposing (if it wasn't for the cloud) Pic du Midi d'Osseau. Got away at our usual 8am for a descent from 2032m to 1350m. The HRP (as Julie will vouch) is a continual switchback of valleys and cols, with the occasional summit, and is rarely level. Mid-way down, near a cabane or shepherd's hut, sat the shepherd on a small stool, allowing his penned ewes to exit the pen through a metal gate one by one.
Intermittently he would stop a ewe, and squeeze milk in jets into a can. Many of the cabanes advertised fromage or ewe's cheese, made from this milk, and in this area, it was often served as a dessert with cherry jam.
At the lowest altitude for the day, we were fortified by a new 'mountain mix', an adaptation of GORP, made with a variety of nuts from the tiny, but superbly stocked El Bozo supermarket in Candanchu, remarkable for the tastiness of the toasted sweetcorn it contained! A 900m ascent, started through woods below an open valley with a stream running through the middle. A fine spot at a false col enticed other walkers to stop, but the weather could not be described as warm and our shorts and T shirts necessitated continuing. I also suspect that Martin was keen to get part of today's difficulties out of the way as soon as possible!
On then, to the Col d'Arrious (2259m), and the Lac d'Arrious beyond, where fleeces came out. Between us and the Refuge d'Arrémoulit lay the Passage d'Orteig. Now I understood the reason for our fast pace – Martin wanted to cross this airy scramble without crowds in front or behind. This was achieved narrowly, as others were waiting to come the other way. Wire provided reassurance as there was a steep drop and the rock was damp and somewhat slippery. The refuge nestled amongst huge boulders and small tarns. Finding a pitch here would have been quite a challenge. It was warmer inside the refuge, where we appreciated the accepted practice of eating one's lunch inside. Bowls of hot chocolate supplemented our bread and tinned fish. The whitewashed walls were adorned with black painted birds and we decided the sleeping platform for four above the tables would be pretty cosy.

Outside it was chilly, despite the long trousers I had changed into under the table in the refuge! But, I was sure to warm up as the ascent continued over large boulders to the Col du Palas and there were only three hours more to do (or so we thought…).
It was a struggle to keep up with Martin who is like a goat on the boulders, but 200m higher, and we arrive at a col. Both guide books described going down a short way on the east side, then making a traverse NE on rocks towards the Port du Lavedan, a narrow gap in the frontier ridge.


This route doesn't seem obvious and we descend steeply for maybe 100m over rocks and grass. Optimism rises when a couple of tiny cairns appear but they don't seem to continue once we cross a ridiculously steep scree slope. The Port is nowhere to be seen. So, we decide to retrace to the col up the steep ground.

"I know this is silly question, Martin, but are we at the correct col?" I suggested, reluctantly. "Perhaps a back bearing from the refuge would be a good idea."
The col was the wrong one. We had climbed to the Col d'Arrémoulit, further south on the ridge than we should have been. So, there was no alternative but to descend over the boulders (my favourite..) nearly back to the refuge before taking the correct route to the Col du Palas. It was by now 3.45pm, so we had wasted two hours and climbed/descended an extra 300m with our 40 pound packs! You may not be surprised to hear that the route to the correct col involved another boulder field, a snowfield, then more boulders. Our efforts were rewarded at the col with a view of Pic du Midi d'Osseau without the head of cloud we had become accustomed to seeing. The going continued to be tricky, first contouring on a narrow path on scree slopes, then scrambling up rock bands, followed by three more snowfields.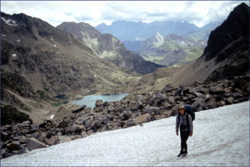 It was at the far side of one of these snowfields, just at the edge, that my foot went through the snow, followed by most of my leg. Extricating the leg from the bergschrund necessitated removing my pack, and an examination of the damage revealed only a bruised knee, cut shin and a pulled muscle. My thoughts wandered to a worse scenario – this was not a good place to sustain a fracture.
Gingerly at first, we continued, with some interesting scrambling, to reach the small Port du Lavedan, at 2615m, our highest point to date, at 5.15pm.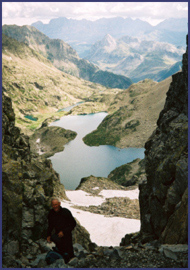 Our intended destination was Refuge l'Arribet (2070m), but again, the descending terrain involved more boulder-hopping and scrambling, and it was slow-going. My mood was low and I was tired, so when Martin proposed pitching the tent on a small patch of grass near a stream, about a mile short of the refuge, at 6.30pm, it was a relief.

We installed ourselves in the tent with marmots in the rocks nearby as companions. Things were looking up, with the exception that the asparagus soup attached itself to the bottom of the pan and turned black. Perhaps it was trying to mimic an experimental main course of pasta with mushrooms and a tin of squid in ink. With the last of the hot chocolate sachets from home, we surveyed the scene at 9.15pm. The wind had dropped and a bright orange vapour trail cut across the now clear dusky blue sky. Nearly time for sleep.

Note: in 2011 David Lintern had an interesting time in this area - see here.