Bludenz to Torbole (Riva) on a mountain bike – 26 August to 2 September 2010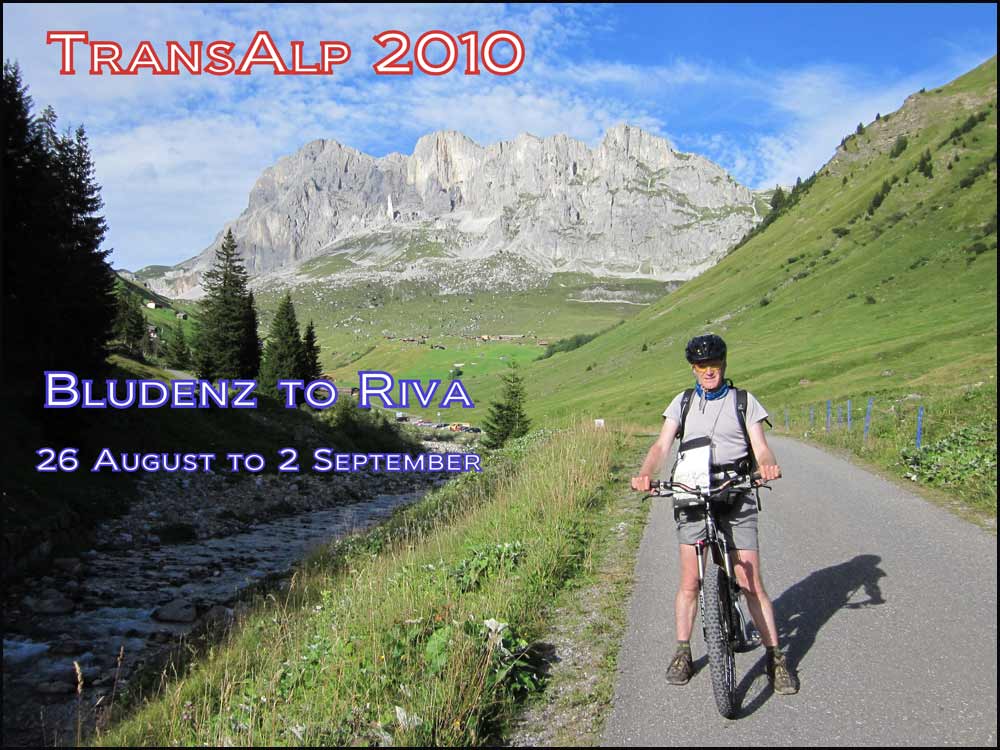 This web page provides a brief summary of a TransAlp Bike Ride undertaken in 2010. It includes links to detailed blog entries that were
made during the course of the trip, and also to a Picasa Slide Show.
The blog is here.
The slide show is here.
Kit list
The part of the world in which this adventure took place, and the actual 250 mile (approx) route is shown below:
| | |
| --- | --- |
| | |

Background and Preparation
I was honoured to be invited by Markus, a TGO Challenger from Austria, to join him on the sort of Alpine trip he does most years
- a TransAlp bike ride. Cycling is not my main activity, so I prepared by embarking on a 102 mile jaunt around the Cheshire Ring,
our local canal network.
A 100 mile trip over two days in the Peak District gave me practice at ascending around 2000 metres a day.
The reports are here: Part 1 Part 2
Finally, a 30 mile ride to my daughter's house in Oldham confirmed that with a week to go a seemingly innocuous knee injury incurred
whilst playing with some children was not at all innocuous and in fact was rather painful.
Nevertheless, I boarded an easyJet flight to Zurich and spent a pleasant evening in Dornbirn during which a rather large mountain bike
was borrowed, and my hand luggage was assembled, ready for action.
The original planned route is here, and the Prologue is here. And here.


Markus took me to a good restaurant for a luxurious lunch overlooking the mountains of the Voralberg
Top
Day 1 - Thursday 26 August
Route: Bludenz - Schruns – Tschagguns – Tilisunaalpe – Grubenpass (2232 m) – Partnunsee – St. Antönien
(Night: Berggasthaus Michelshof)
Distance: 30-35 km
Ascent: 1800 metres
Descent: 850 metres
Time: 8.5 hours
After a short train ride to Bludenz, we enjoyed a fairly flat warm-up to Schruns. Then a long, long hill took us to the high point of the
day and an enjoyably technical descent to our hotel, which is apparently frequented by English royalty on visits from nearby Klosters.

Report here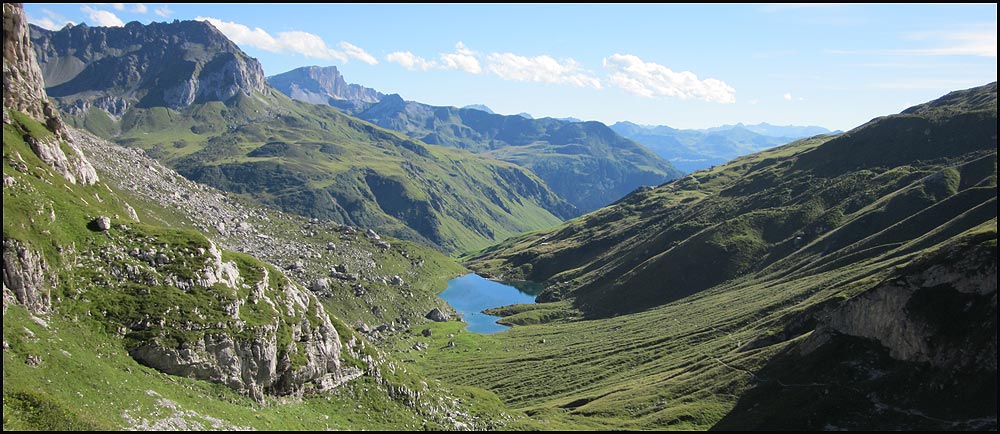 Looking down from below Grubenpass (2232 m) to Partnunsee, above St. Antönien
Top
Day 2 - Friday 27 August
Route: St. Antönien – Küblis – Klosters – Laret – Davos – Dörfji – Flüelapass (2383 m) – Susch – Zernez (Night: Hotel Bär)
Distance: 60-65 km
Ascent: 1900 metres
Descent: 1900 metres
Time: 8.5 hours
We descended to Klosters under heavy skies. After that it rained. Heavily. Lunch in a cafe in Davos produced a large puddle.
The planned high level route direct to Zernez was abandoned in favour of the road over Flüelapass, after which the rain
cleared for a fabulous 900 metre descent to Susch - 10km in little more than 10 minutes. Then we had a very pleasant flat
section to Zernez.

An early morning view from near St
Antönien
towards Klosters and Davos
Top
Day 3 - Saturday 28 August
Route: Zernez – Susch – Ardez – Scuol – San Jon – Val S-charl – S-charl – Alp Astras – Passo da Costainas (2251 m)
– Lü (Night: Gasthaus Hirschen) [As planned]
Distance: 55-60 km
Ascent: 1800 metres
Descent: 1350 metres
Time: 8.75 hours
On a damp morning we retraced our route back to Susch. The morning was then spent at the head of a Swiss Mountain Bike Marathon,
with expectant crowds cheering us through a number of villages before realising that we were not actually competitors. After the
descent to Scuol we left the racers and in better weather headed up a long ascent to the high point of the day, before an entertaining
drop down to the high village of Lü.

Looking up the nicely graded track to
Passo da Costainas (2251 m)
on the route from S-charl
Top
Day 4 - Sunday 29 August
Route: Lü – Alp Champatsch – Pass dal Fuorn – Alp da Munt – Buffalora – Jufplaun – Lago Livigno – Passo di Fraele – Lago di San Giacomo
– Trepalle – Bochetta Trelina – Arnoga (Night: Hotel Li Arnoga)
Distance: 35-40 km
Ascent: 1400 metres
Descent: 1450 metres
Time: 8.75 hours
A lovely start after an initial ascent gave fine views over the Stelvio National Park towards the glacier strewn summits of
the Ortler mountains. Coffee and apfelstrudel amongst the bikers at Pass dal Fuorn provided a welcome break. Crossing the road,
on a Sunny Day in the Alps, we headed up to a fine pass leading into Italy, where our maps came to an end at one of the
best off-road downhill sections of the trip - a dramatic, swooping zigzag path down to Lago Livigno. A gentle section to
Lago di San Giacomo, and a welcome bowl of pasta, softened us up for a severe climb (push) before lovely contouring tracks
drew us around to Arnoga.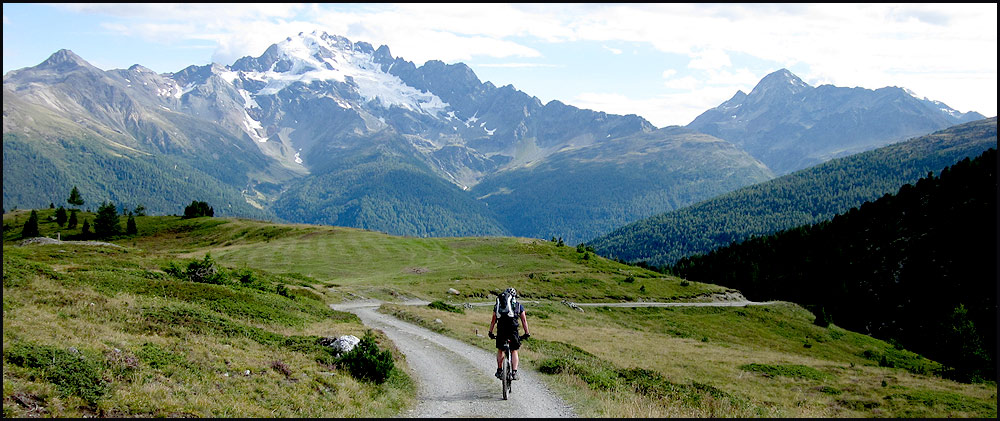 Descending from
Bochetta Trelina
towards Arnoga
Top
Day 5 - Monday 30 August
Route: Arnoga – Passo di Verva (2301 m) – Eita – Grosio - Sondalo – Le Prese – Fumaro – Baita Rezzalo
(Night: Rifugio La Baita)
Distance: 40-45 km
Ascent: 1800 metres
Descent: 1800 metres
Time: 8.5 hours
Rain slowed Markus as we ascended to Passo di Verva and its new WW1 memorial. He has done a number of TransAlp bike rides.
This was the wettest and coldest. Still not bad, though. The weather cleared as we descended to Grosio for lunch and a
failed attempt to find a bike shop to attend to my misbehaving disc brakes on the borrowed Tank. After this it was
minor roads nearly all the way up to Alessandro's mountain hut - La Baita - an excellent billet for the night.
We were his only guests.

The view from our bedroom window at Arnoga
Top
Day 6 - Tuesday 31 August
Route: Val Rezzalo – Passo dell´Alpe – Passo Gavia (2618 m) – Pezzo – Ponte di Legno - Passo del Tonale – Ossana - Dimaro
(Night: Jolly Bar/B+B)
Distance: 60-65 km
Ascent: 1550 metres
Descent: 2650 metres
Time: 8.0 hours
The steep track continued on up to Passo dell' Alpe. For me, the total of around 1000 metres of pushing the heavy bike
had become a little wearing, so it was good to be able to pedal along the mountain road to Passo Gavia and a welcome coffee.
The long descent to Ponte di Legno would have been more fun with fully functional brakes, as would the descents for the
rest of the trip, but we couldn't get them mended. Our B&B was discovered when Robert accosted Markus in the street
and offered that luxurious accommodation. We even had separate rooms. A special discount at a nearby pizzeria
was an added bonus.

From Passo Gavia our route descended to the left on this image, with spectacular Alpine views from the narrow road
Top
Day 7 - Wednesday 1 September
Route: Dimaro – Madonna di Campiglio – Lago di Val d´Agola – Passo Bregn del Ors (1836 m) – Val d'Algone
(Night: Albergo Brenta)
Distance: 40-45 km
Ascent: 1700 metres
Descent: 1300 metres
Time: 8.5 hours
A morning of mainly uphill forest tracks preceded a short descent to the busy town of 'Madonna'. For the first time we were
encountering significant numbers of other TransAlpinistes. But we saw little of them as we continued on through the magnificent
limestone scenery of the Brenta Dolomites, eventually dropping down to another quiet hotel in the depths of Val d'Algone.
The view towards the Brenta Dolomites from Passo Bregn del Ors
In 1999 we spent a great few days on the Bocchette Via Ferrata high in these mountains
Top
Day 8 - Thursday 2 September
Route: Albergo Brenta – Preore – Tione di Trento – Storo – Passo di Tremalzo - Passo/Bocca di Various (circa 1800m) -
Pregasina – Riva – Torbole (Night: Hotel Villa Franca)
Distance: 80-85 km (Total: 395-435 km)
Ascent: 1950 metres (Total: 13900 metres)
Descent: 3050 metres (Total: over 14000 metres)
Time: 9.5 hours (Total: 69 hours)
A long last day, but we rose early and covered the 40km of road to Storo in around two hours, despite an unexpected
350 metre ascent (we'd had no maps after Pass dal Fuorn on day 4). The 1300 metre ascent to Tremalzo went quickly
for me. It was the first time I had been ahead. So, for a change, Markus did not have to wait for me and we were able
to enjoy lunch and the wonderful long descent to Torbole without feeling rushed. This was a highlight, with lots of
other cyclists in evidence, many having taken one of numerous 'bike buses' up to Tremalzo. Then - We Arrived!

The view to Lago di Garda from the final descent of the trip, with Riva on the left and Torbole to the right
Total trip (approx) 430km 14,000m ascent 69 hrs
Epilogue
A couple of final postings were made here, and the following day - by way of 'Chilling out in Riva/Torbole'.
The index is here. <![if !supportEmptyParas]> <![endif]>
Top


Kit List
This list may include items not everyone will need - it's intended as a checklist and
whilst not exhaustive does cover both essentials and luxuries!  Obviously weight should
be kept to a minimum and advice on the most effective kit can be provided.
Rucksack – 30 to 35 litres (eg Deuter Trans-Alpine 30) plus rain cover and waterproof liner
Silk liner for use in mountain huts
Cagoule / Overtrousers / Fleece / Helmet
Windstopper jacket or smock
Cycling gloves
Waterproof Gloves / Balaclava or buff to go under helmet
Torch (small)
Gore-tex trail shoes and ankle gaiters
Cycle shorts (padded)
Leg warmers
Socks (2 pairs) / Underwear / Wicking t-shirts (2) / Handkerchiefs
Water Bottle(s) / mug
Food for snacks / special teas / other special requirements / Lunchbox
'Crocs' for evenings
Mobile phone / spare battery / charger
Camera / Binoculars / spare batteries for torch and camera / Tripod
Pen / Paper / Book to read / Loo roll
Watch
Glasses / contact lenses (for the poor sighted )/ Glasses case / Cloth Cleaner
Sunglasses / Suntan cream / lip salve
Pump
Tool kit
First aid kit
Toothbrush / Toothpaste / Dental floss / Shampoo / Razor
Comb / Travel Towel / Vaseline
Lux Flakes or similar to dunk sweaty underwear
Cash / Tickets
Timetables / other papers / Addresses for postcards / This List / Keys
Favourite tapes / CDs / personal stereo)
Maps and map case
JCloth / Knife / Spoon (spork) / butty bags
Matches / needle / thread / tape
Elastoplast/ Aspirin / Diocalm / Savlon / Wipes
Compass / Whistle / First aid kit
Can Opener / penknife