Thursday 15 December 2005
Evening walk from the Roman Lakes, Marple
- starting 7.30 pm.
Here are details of the proposed route and directions. 
Call us on 07968 122170 if you are coming but running late.
Regards,
Martin and Sue

Overview
1 -> 2 -> 1

Instructions

1 (SJ 969 878) Roman Lakes. Go to Roman Lakes Leisure Park from Marple (other routes are only bridleways) by turning down a steep lane off the B6101. Go under the railway and turn right twice along the unmade road to reach Roman Lakes after one km. Observe ducks etc on ornamental pond. Detailed directions.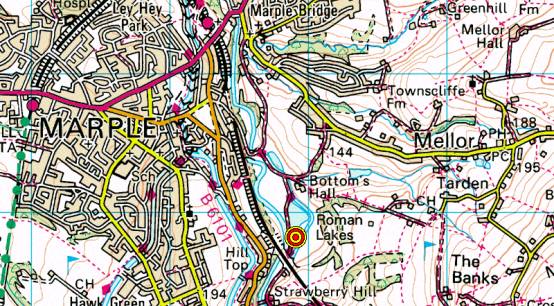 1 -> 2 (2.61 Km) The walk starts out left from Roman Lakes and follows the track by the river, under the railway, then alongside the railway before emerging onto a track by a farm. Turn right over the railway then down to a T-junction where a right turn takes you to the B6101 at Strines.

2 -> 1 (5.08 Km) Go straight across the main road then up the hill to the canal. Turn right along the right bank of the canal (heading north) and enjoy the stroll back to the fleshpots of Marple before returning down lanes to Roman Lakes.
This walk can be done in the dark, ambient light should be sufficient to keep use of torches to a minimum.
Total Distance 7.69 Km, 166 metres ascent, estimated time 2 hours