Friday 25 September 2009
There's a blog report on this 10 mile ride - here.
It's a 1-2 hour ride, or a walk in 3-4 hours.
Bike ride to Rowarth and Mellor from Roman Lakes

Instructions

1 (SJ 969 878) Roman Lakes. Go to Roman Lakes Leisure Park from Marple (other routes are only bridleways) by turning down a steep lane off the B6101. Go under the railway and turn right twice along the unmade road to reach Roman Lakes after one km. Observe ducks etc on ornamental pond. Detailed directions.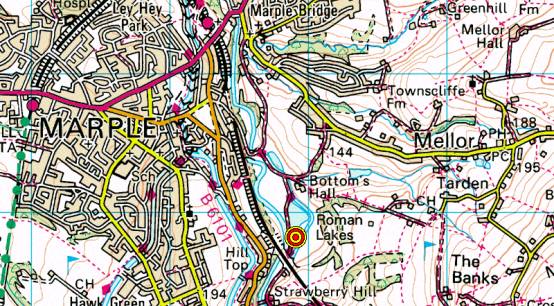 1 -> 2 (1.05 miles) The ride starts out left from Roman Lakes and follows the track by the river, under the railway, then alongside the railway and past a farm before emerging onto a track by another farm where a sadly derelict red Ford Capri lurks in a barn.
2 -> 3 (0.44 mile) Turn left (don't pass the barn) up a sharp hill for a few hundred metres until the broken road levels out and a track leads off right. Go up this track to a steep finish on concrete at a junction.
3 -> 4 (0.78 mile) Turn right and follow the track up past some houses. It then turns into a narrow path going down with good views over New Mills, joining a small road. Bear left up this road and over the top, dropping down to the little hamlet of Brook Bottom where the Fox Inn may be open.
4 -> 5 (4.34 miles) Keep on the road up the hill for 200 metres and turn left opposite a metal bench on the right. Using a low gear you may be able to ascend to a tarmac road near the golf clubhouse without dismounting. Turn left and follow the road up to the top of the hill where it turns into a wide stone track. Shortly afterwards turn right down a fast rocky track to the right of a wood. On reaching a road, turn right for 100 metres, then left down a restricted byway, doubling back along the sandy track across the hillside to a narrow road. Descend with speed and care to a junction where the road takes a sharp right. Bear left here and follow the lane all the way up to a gate, beyond which a narrow gravel track leads up to a wide stone track. Turn left here, following the track gently up then bearing left to descend down a rocky track to join the end of a road by Laneside Farm. Follow the lane down to the Little Mill Inn.
5 -> 6 (0.57 mile) Proceed up the hill to a T junction. Turn left to reach another pub.
6 -> 7 (0.82 mile) Turn right past the pub and swoop down the hill and round bends to a short climb after which the road bends sharply right.
7 -> 8 (1.02 miles) Go straight on here, past a cottage to a field gate. Continue across the field to another gate, and straight on to the Mellor Hall complex. Keep to the right through here, passing through the garden/yard to join a lane that then turns right towards the church, then left to steeply descend to the main road in Mellor.
8 -> 1 (1.54 miles) Turn right and descend the road until it widens and Parkside Road leads straight on at a slight right bend in the road. Follow this and go straight on to Old Hall Lane - a rocky track. Turn right at the bottom and then left into Lakes Road and back to Roman Lakes Leisure Park.