Home

In celebration of my successful Pyrenean GR11 Trip - June 15 to August 1 2015
A Party in Leyburn
Latest News (28 October):
The full complement:
Martin and Sue - Room 3
Mick and Gayle (TGO Challengers and GR10ers) - Room 4
AlanR (Blogger and TGO Challenger) and Sheila - Room 8
Conrad (Sir Hugh) (Pyrenees guru) - Room 6
Alan Sloman (Blogger, TGO Challenger, and lover of the Pyrenees) - Room 6
JJ (TGO Challenger and Musician) - Room 5 (Saturday only)
Graham and Sue Brookes (TGO Challengers and Pyrenees fans) - Room 7
German Martin (completed GR11 this year) - Room 5
Ali and Sue (TGO Challengers) - Room 1
Richard and Jenny (plant custodians, blog commentators and general dogsbodies) - Room 2
So between us we've done about 10 Pyrenean traverses and over 100 TGO Challenges!
We are booked into a B&B with capacity for 16 people on a sole occupancy basis on Friday 30th and Saturday 31st October 2015.
It is Collett's base in the Yorkshire Dales - Eastfield Lodge B&B, 1 St Matthew's Terrace, Leyburn, Wensleydale DL8 5EL.
All you need to do is turn up on the Friday night.
I've planned walks for the Saturday and Sunday (see below), or you can do your own thing. On Saturday night we'll eat together at 7.30pm at Thirteen in Leyburn. That meal, and any drinks and lunches over the weekend is all you'll have to pay for, unless you want a copy of my book 'Another Pyrenean Adventure', in which case you'll need a further £8.
On the Friday night I'll provide a steak pie supper in the B&B for those who would like it - from any time after 7pm. Most people are taking advantage of this, though you are of course free to do your own thing. (The book launch will take place at 9 pm.)
The walks:
Saturday: whilst you are free to do whatever you want, I'm planning a 21km (13 miles) walk to Castle Bolton via Wensley, returning in a clockwise loop - the upper circuit in the image below. There's a café at Castle Bolton and a pub at Redmire. You'll have to sort out your own lunches. There's also a train service that some may wish to take advantage of - timetable here.
Sunday: Sue and I have to leave the area mid afternoon to get German Martin back to Manchester Airport for his flight to Berlin. I'm therefore planning a shorter clockwise circuit via Middleham and West Witton, though if there is time pressure we can take an obvious short cut past Gale Bank. It's the lower loop on the map below. Feel free to join us on that walk or do your own thing. You'll need to sort out your own lunches.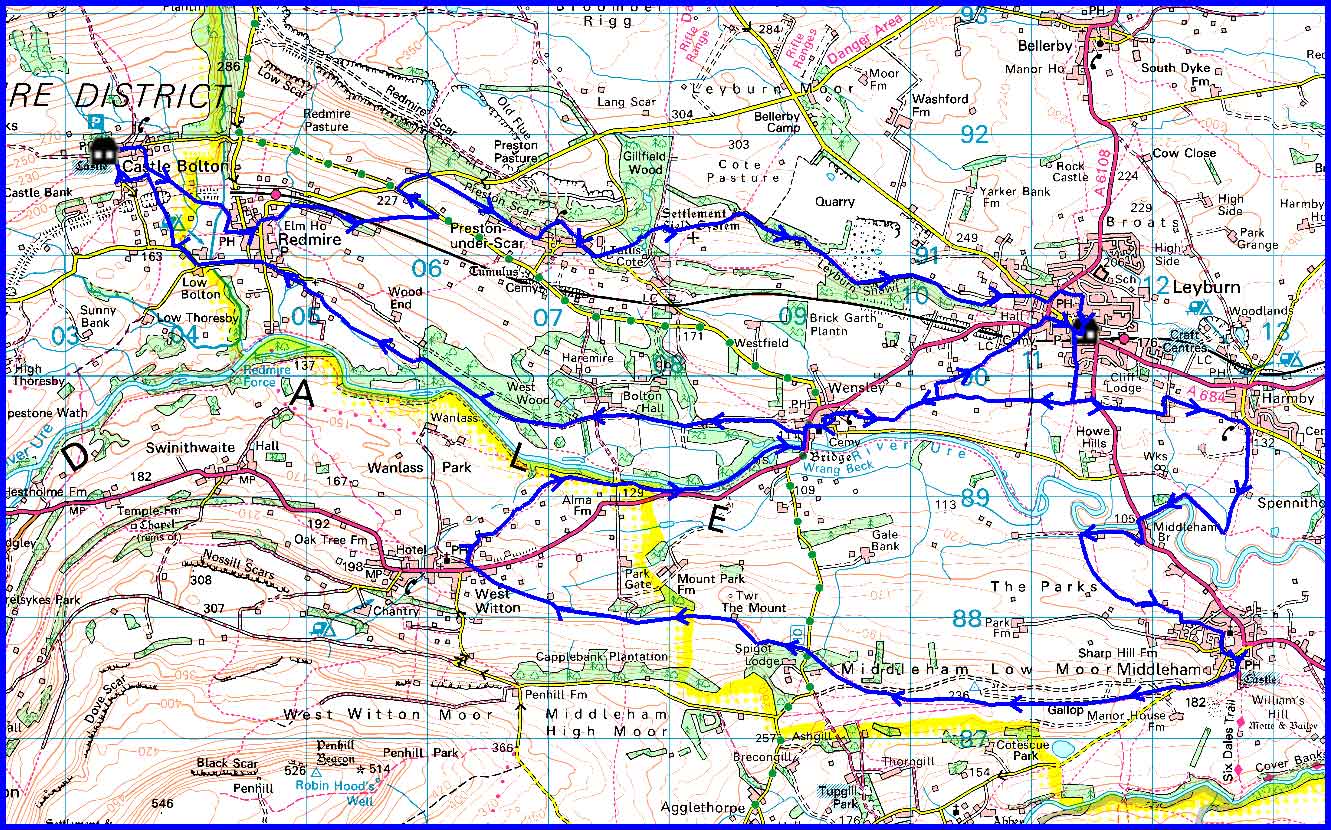 Any queries or uncertainties - please let me know or call me on +447968122170. There is more information below.
With all best wishes
Martin
07968122170
http://www.topwalks.com/
http://phreerunner.blogspot.co.uk
Here is the acknowledgement from Collett's. The reference to Henry, is Henry Collett, who we met last year in the Dolomites. I will liaise with him re finer details closer to the time.
Dear Martin ,
Eastfield Lodge, Leyburn, Wensleydale
We are delighted you are coming to stay at Eastfield Lodge and look forward to welcoming you to Wensleydale.
I confirm we have booked you all eight en suite bedrooms (exclusive use) for two nights, arriving on the 30th October and leaving us on the 1st November.
Your rooms will be available from 4pm on the day of your arrival and an ideal time to arrive is between 4pm and 7pm, If however you are planning to arrive in Leyburn early please do call in if you would like to park your car and make the most of your day, it may be possible for you to collect your keys so that you can return later at your pleasure.
We look forward to welcoming you to Eastfield Lodge.
If you click the following link you will find our location. Directions can be found easily from anywhere in the UK following the links on screen - Google Map
Please give us a call on 01969 623196 if you require any further information.
Kind regards,
Viv Wilkins