Saturday 3 July 2004
Evening walk from Braithwaite campsite
- starting 6.00 pm or earlier.
Here are details of the proposed route and a map. 
Call us on 07968 122170 if you are coming but running late.
Regards,
Martin and Sue
Hopegill Head from Braithwaite
Route Summary

1 -> 2 -> 1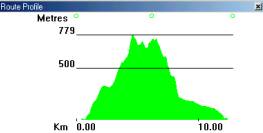 Instructions

1 (NY 234 235) Braithwaite campsite. Arrive mid afternoon to relax before the evenings exertions.

1 -> 2 (6.21 Km) Ascend via Grizedale Pike (791m). Wainwright [Grizedale Pike 8] describes this as a delightful walk with a couple of easy sections along the ridges of Kinn and Sleet How to break up the steeper climbing. After Grizedale Pike, continue a mile or so, with excellent views, to Hopegill Head, dropping a little before ascending the final 120m.
(2hrs 40min)

2 (NY 185 221) Hopegill Head - 770m. Time for supper, or even perhaps a BBQ.

2 -> 1 (6.58 Km) Suitably refreshed, return via Coledale Hause, Coledale, and the Coledale Inn. Easy paths, so given that there is also a full moon, there is no rush apart from the pull of closing time!
(1hr 20min)

3 (NY 234 235) Braithwaite campsite.