Kit list
Costs
Kendal to Keswick backpack – 3 to 11 June 2005
The planned route is shown below: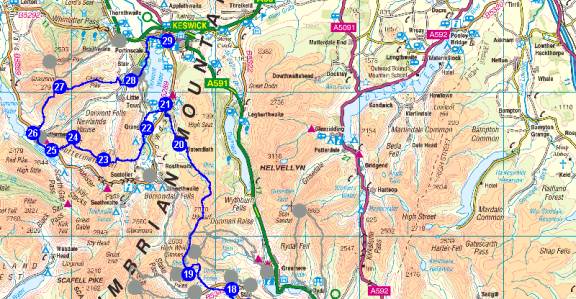 Detailed itinerary
Note the timings shown are based on 4 km/hour and 450 m ascent/hour, less than 80% of
Naismith's formula, so total time including stops should not significantly exceed these
estimates.
<![if !supportEmptyParas]> <![endif]>
1         Kendal Youth Hostel - 0870 770 5892 (SD 514 923) [B&B – family room]    
Arrive Friday evening in transport from Manchester.  Adjourn to restaurant.

Leave the centre of Kendal and walk north beside the River Kent to join the Dales Way
at Burneside.  Continue on the north side (left bank) of the river to Hagg Foot, leaving
the Dales Way (if desired) at Bowston.  Cross to the right bank at Hagg Foot to rejoin
the Dales Way and proceed to Staveley for refreshments.
2          Staveley (SD 472 982)    
2->3                       8.97 km
Leave the River and continue along the pleasant lanes of the Dales Way, heading generally
west towards Windermere.  On the outskirts of the town, just before Pinethwaite, leave
the Dales Way which heads south.  Continue directly north to reach the busy A591 main
road.
3          A591 by Windermere (SD 419 987)         
3->4                       5.15 km
Turn right along the main road for a few metres before turning left down a lane towards
The Common.  Go left past The Common Farm and head through Near and Far Orrest before
descending to the A592 Kirkstone Pass road.  A little way to the north a path to the left
crosses Trout Beck and ascends to Bridge Lane.  Turn south along the lane, and the youth
hostel is soon reached on the right, overlooking Lake Windermere.
4          Windermere Youth Hostel - 0870 770 6094 (NY 405 012) [B&B and evening
meal, dormitory accommodation]                
Total for the day: 25 km, 550m ascent, 7.5 hours walking.
Alternatively walk into Windermere before reaching point 3, and get a taxi to the youth
hostel, to shorten the day by 5 km and 1.25 hours.

<![if !supportEmptyParas]><![endif]> Top
4->5                       8.39 km
Walk down Bridge Lane from the Youth Hostel, to the main road at Troutbeck Bridge. 
Turn left up the minor road to join the A592.  Go south along the road and at the next
junction leave it in favour of a path which skirts High Hay Wood and Elleray Bank. 
Woodland leads back to the A591 by Windermere railway station.  Windermere can
be visited, or it can be skirted to the east via suburban roads by Heathwaite then south
to Helm Farm, soon after which the Dales Way is joined and leads directly west to
Bowness for refreshments and to pick up food for lunch.  Go down to the piers and
fleshpots then continue as closely as possible to the Lake, eventually reaching a car park.
5          Car Park near Landing Stages at Bowness (SD 398 959)         
5->6                       0.91 km
Go down the road to the landing stage and cross Windermere on the ferry.
6          The Ferry House - Windermere (SD 390 957)    
6->7                       6.64 km
From the landing stage walk about 200m along the B5285 and take a steep path up
through woods to Mitchell Knotts.  After this go left at a path junction then turn
right at the next junction to proceed north through woodland for about 1.5km when
a path to the left is taken.  Go up to the summit trig point of High Blind How (270m). 
Return to the path and head roughly NW through lots more woodland, eventually
reaching the viewpoint of Latterbarrow (244m).
7          Latterbarrow (SD 367 991)
7->8                       4.13 km
Descend west from Latterbarrow to reach a minor road.  Turn left and then right
onto Loanthwaite Lane.  Take the second path to the left (soon after the first one)
and soon reach the village of Hawkshead.  Back lanes lead south to Hawkshead Youth
Hostel at Esthwaite Lodge.
8          Hawkshead Youth Hostel (Esthwaite Lodge) – 0870 770 5856 (SD 354 966)
[B&B and evening meal, 3-bed room]                     
Total for the day: 20 km, 650m ascent, 6.5 hours walking.
Alternative shorter routes are available but would involve more road walking.

Top
Monday 6 June                
8->9                       3.98 km
From Esthwaite Lodge turn left along the road then first left past a picnic area,
SW to pass High Barn before going south into the forest heading for Grizedale,
where there are sculptures and a Visitor Centre.
9          Grizedale (SD 335 943)   
9->10                     9.30 km
From the fleshpots of Grizedale head west up into Grizedale Forest, veering north
below Carron Crag, up through the forest to Grizedale Moor and past a Fire Tower
before descending through Black Dyke Moss to Burnt Intake and Wharton Tarn,
encountering minor roads before rising again to join the Tarn Hows road.  This can
be followed round, but it's much nicer to join the tourists and walk anti-clockwise
around The Tarns, eventually joining the Cumbria Way shortly before coming to a
footbridge on the west bank.
10        Tarn Hows - footbridge (SD 327 997)     
10->11                              3.59 km
From Tarn Hows continue along the Cumbria Way, taking the road west for 500m and
at the first junction a path west leads down past Tarn Hows Cottage and through
Tarn Hows Woods to reach Low Yewdale farm.  Don't join the main road.  Continue
south then SW along the Cumbria Way to Coniston Village on undulating paths.
11        Coniston Village (SD 304 977)        
11->12                              2.26 km
Continue into the village for refreshments, etc (the Ruskin Museum could be visited),
before heading W then NW up past Dixon Ground to where the track runs beside
Church Beck.  Cross the beck at Miners Bridge and stroll up the track to Coniston
Coppermines Youth Hostel.
12        Coniston Coppermines Youth Hostel – 0870 770 5772 (SD 289 985)
[B&B and evening meal, dormitory accommodation] 
Total for the day: 19 km, 750m ascent, 6.5 hours walking.
Alternatively short cuts to Coniston, missing the Tarn Hows section, would significantly
shorten the day.

12->13                              0.76 km
After Jonathan's excellent breakfast, stroll down the track from Coniston Coppermines
Youth Hostel to the first bridge across Church Beck, Miners Bridge.
13        Miners Bridge on Church Beck (SD 294 980)      
13->14                              2.97 km
Now for a proper ascent.  From Miners Bridge turn briefly upstream by the right
bank of Church Beck before climbing steeply west on good paths past old quarries to
reach Low Water before the final thrutch up The Old Man of Coniston.
14        The Old Man of Coniston (SD 272 978)    
14->15                              4.58 km
From OMC summit take the northerly ridge route to Swirl How.  (In misty weather
do not make the mistake of descending from Great How Crags.)  Here debate possible
alternative routes (see below).  Descend E down Prison Band to Swirl Hawse then
ascend ENE to reach the summit of Wetherlam.
15        Wetherlam (NY 288 011)
15->16                              5.13 km
From Wetherlam summit descend NE down Wetherlam Edge, veering towards the north
down Birk Fell to reach a track above Greenburn Beck.  Continue E past a climbing hut
to Slater Bridge, just below Little Langdale Tarn.  Walk through Little Langdale
(refreshments) and on to the north to join another track between Howe Banks and
Fletcher's Wood.
16        Path junction by Fletcher's Wood (NY 321 041)
16->17                              1.28 km
This direct route north is one of several paths that can be taken from Fletcher's
Wood to join the main Langdale Valley at Wainwright's Inn by Chapel Stile.
17        Wainwrights Inn at Chapel Stile (NY 322 051)   
17->18                              2.36 km
At Wainwright's Inn rejoin the Cumbria Way and head W past Thrang Farm then on
the south side of Great Langdale Beck before recrossing at the first opportunity to
reach the valley road.  Turn L then R to reach Robinson Place Farm.
18        Robinson Place Farm – 015394 37214 (NY 312 063)     [B&B, family room]
Adjourn for pub meal.
Total for the day: 17 km, 1200m ascent, 7.0 hours walking.
Alternatively there are various different routes that could be taken from Swirl How,
eg N to Three Shire Stone and over or around Pike of Blisco to reach the Langdale
valley near the Old Dungeon Ghyll Hotel.
Top <![if !supportEmptyParas]> <![endif]>
18->19                              5.28 km
From Robinson Place, armed with a packed lunch, take either the track to the south
of the road, or retrace to rejoin the Cumbria Way to reach the New Hotel at Dungeon
Ghyll.  From there ascend Stickle Ghyll and pass to the east of Stickle Tarn.  There is
a choice of routes up to Harrison Stickle.  Jack's Rake up the face of Pavey Ark
is an excellent scramble, or there is an easy gully with a thrutchy crux which joins
the main path that heads north then west from the eastern edge of the tarn.
19        Harrison Stickle (NY 281 073)      
19->20                              11.16 km
Head in a northerly direction from Harrison Stickle along paths to High Raise then
along a fence to Ullscarf.  Continue in that northerly direction and leave the fence to
drop to Blea Tarn, from where a path leads NW to the scenic fleshpots of Watendlath.
20        Watendlath (NY 275 163)    
20->21                              3.73 km
Descend by the left bank of Watendlath Beck to a footbridge after 2km.  Either cross
over and follow a path through woodland close to the right bank (preferred), or go
directly W to reach the B5289 by a choice of paths.  The road soon leads north to
Mary Mount Hotel.
21        Mary Mount Hotel –017687 77223 (NY 265 191) [B&B, 1 superior twin,
1 standard single]      
Table reserved for dinner at 7.30.
Total for the day: 20 km, 1050m ascent, 7.5 hours walking.
Alternatively there is an easier route via Stake Pass and Rosthwaite that would take
about 5 hours.
Top <![if !supportEmptyParas]> <![endif]>
21->22                              3.07 km
From Mary Mount Hotel go south down the B5289, turning right down the first path,
across the River Derwent to join the Allerdale Ramble and Cumbria Way path leading
to Grange village, where food for lunch can be purchased.
22        Grange Village (NY 252 175)          
22->23                              4.97 km
From Grange continue S, keeping Hollows Farm to the R before turning R up Broadslack
Gill.  On reaching Tongue Gill, turn W and head up steeply to Dale Head summit.
23        Dale Head (NY 223 153)  
23->24                              2.95 km
Follow Hindscarth Edge and Littledale Edge WNW and finally N to Robinson.
24        Robinson (NY 201 168)    
24->25                              2.08 km
From Robinson summit retrace S then head SW to join Hassnesshow Beck for the
final descent to Dalegarth, on the Hassness Estate, by Buttermere.
25        Dalegarth – 017687 70233 (NY 186 159) [B&B, 1 standard twin,
1 en-suite single]        
Either spend the evening at Dalegarth or go to Buttermere for a pub meal.
Total for the day: 13 km, 1000m ascent, 5.5 hours walking.
A fairly easy day that could be extended by taking the ferry across the foot of
Derwent Water and walking via Cat Bells, Maiden Moor and High Spy to reach the
path up Dale Head.  This would extend the walk by about 1.5 hours, and a packed
lunch would be needed.
<![if !supportEmptyParas]><![endif]> Top
25->26                              2.03 km
Leave Dalegarth to reach Buttermere shore path.  Continue into Buttermere and on
to a camping barn.
26        Camping Barn at Buttermere (NY 173 171)         
26->27                              4.19 km
Turn R at the Camping Barn and head steeply NE up Whiteless Breast, turning to
the north when the slope eases and passing over Whiteless Pike.  Along the ridge
NNE to Wandope and Crag Hill.
27        Crag Hill (NY 192 203)    
27->28                              5.90 km
From Crag Hill summit take the path E to Sail and continue above Scar Crags to
Causey Pike.  The route continues E to Rowling End before making its way steeply
down to Rowling End Farm.  Go east past Ghyll Bank to reach Skelgill.
28        Skelgill (NY 242 208)      
28->29                              5.34 km
From Skelgill follow the minor road to the car park at the foot of Cat Bells before
leaving the road and rejoining the Cumbria Way through woods on the west side of
Derwent Water.  Continue into Portinscale at the head of the lake before crossing
the River Derwent and heading E along the path to Keswick and the conclusion of this
delightful tramp.
29        Keswick Youth Hostel – 0870 770 5894 (NY 267 235) [B&B – dormitory] 
Adjourn to restaurant to celebrate completion of 130 km route.
<![if !supportLineBreakNewLine]>
<![endif]>Top
Saturday 11 June
Return to Manchester in transport provided – 10 am from Keswick.
<![if !supportEmptyParas]> <![endif]>
Essentials
All participants need to be members of the Youth Hostels Association or an
affiliated body.  YHA membership costs £15.50 and can be obtained by completing
the on-line form.
<![if !supportEmptyParas]> <![endif]>
Kit List
This list may include items not everyone will need - it's intended as a checklist and
whilst not exhaustive does cover both essentials and luxuries!  Obviously, unless
transport of baggage between overnight stops is arranged (the Sherpa Van Project
provides this service), weight should be kept to a minimum and advice on the most
effective kit can be provided.
Rucksack – 35 to 50 litres plus waterproof liner
Silk liner for use in youth hostels if you don't like their cotton liners
Cagoule / Overtrousers / Fleece / Sunhat
Gloves / Balaclava or woolly hat
Torch (small)
Walking-poles (optional)
Walking Socks (2 pairs) / Underwear / Wicking shirts (2)
Water Bottle(s)
Food for snacks / special teas / other special requirements / Lunchbox
Trainers or sandals for evenings/ Boots or all terrain shoes
Camera / Binoculars / Film / spare batteries for torch and camera / Tripod
Pen / Paper / Book to read / Bog roll
Clock / watch
Glasses / contact lenses (for the poor sighted )/ Glasses case / Cloth Cleaner
Sunglasses / Suntan cream / lip salve
Boot Wax
Toothbrush / Toothpaste / Dental floss / Shampoo / Razor (if prone to hairiness)
Comb / Travel Towel
Lux Flakes or similar to dunk sweaty underwear
Cash / Tickets
Timetables / other papers / Addresses for postcards / This List / Keys
Favourite tapes / CDs / personal stereo)
Additional items for leader:
Maps
Emergency shelter
Stove / Pan / Mugs / JCloth / Knife / Spoon / butty bags
Matches / needle / thread / tape
Elastoplast/ Aspirin / Diocalm / Savlon / Wipes
Compass / Whistle / First aid kit
Can Opener / penknife
Top
Costs
Topwalks' charge for transport, accommodation and some meals for this trip is
£250 per person, payable £125 by 30 April 2005 and £125 on 3 June 2005. 
This covers all meals except the following:
3 June – evening meal in Kendal
5 June – lunch - to be purchased in Bowness
7 June – evening meal in the Langdale valley
8 June – evening meal at Mary Mount Hotel
9 June – evening meal in Buttermere
10 June – evening meal in Keswick
Each participant should allow £100 for the above, plus say a further £50 spending
money, bringing the total cost to approximately £400 plus YHA membership.