Home

Martiflette (2 servings)

This is a dish based on the traditional 'Tartiflette' that we enjoyed with French friends earlier in 2015.
When I told Chantal that I included mushrooms in my recipe, and that I didn't use Reblochon cheese,
she said "That's not Tartiflette, you can't call it Tartiflette".
So this is my take on this traditional Alpine dish.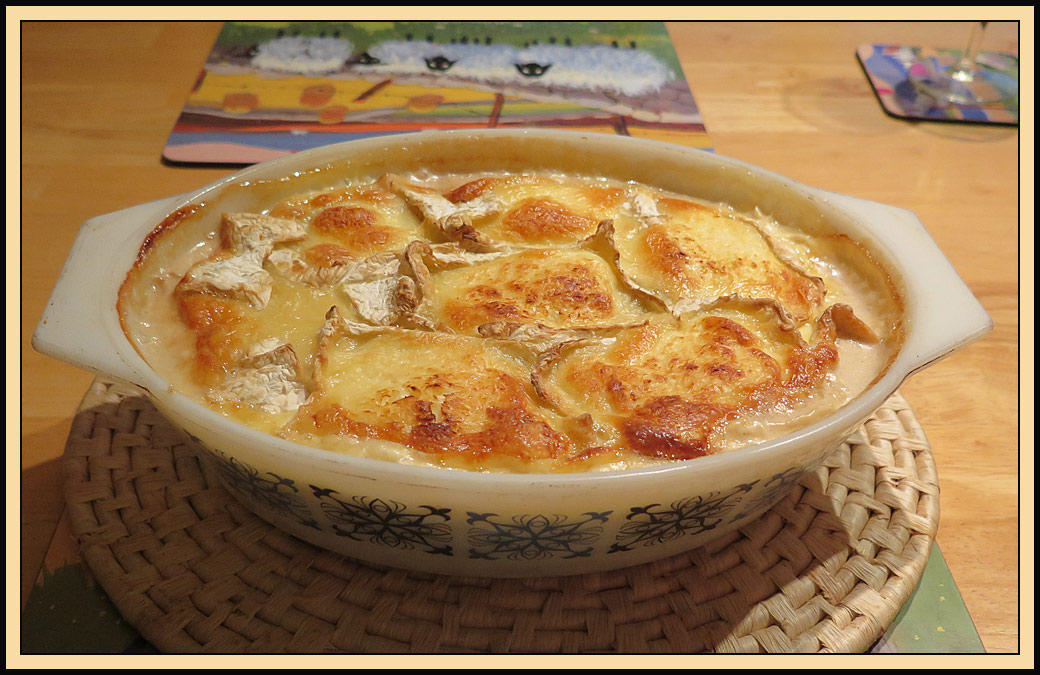 INGREDIENTS

350 gm potatoes (waxy/red are good) - thinly sliced
250 gm bacon (smoked is good) - get two hand-cut slices from the butcher - chop into small squares (or buy lardons)
4 shallots or a small red onion - sliced
2 cloves garlic - crushed
150 gm chestnut mushrooms - sliced
200 ml double cream
250 gm Linset Chaorce cheese
White wine
Salad ingredients of your choice

PROCESS

1 Heat oven to 200 degrees C.

2 Boil the potatoes in salted water until they soften (6-7 minutes).

3 Drain and cool the potatoes.

4 Fry the bacon, garlic and onion/shallots in a dash of olive oil for 5-6 minutes until they soften,
then add the sliced mushrooms and continue frying for 4-5 minutes.

5 De-glaze the pan with white wine.

6 Put the bacon mixture in a buttered gratin dish, then layer the sliced potatoes on top.

7 Pour the double cream evenly over the top of the potatoes.

8 Season with salt and pepper.

9 Overlay with slices of the Chaorce cheese. This is more readily available than Reblochon,
which can also be used, as can other soft, melty cheeses.

10 Bake in the oven at 200C until the cheese is golden and bubbling.

Enjoy with some green, or more elaborate, salad.